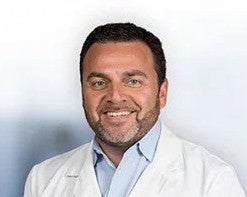 Dr. Vladimir Alexander is the founding partner of Alexander Orthopaedic Associates. He specializes in knee, hip and shoulder surgery. Dr. Alexander has nearly two decades of experience in orthopedic surgery. He is a board-certified and recertified by the American Board of Orthopaedic Surgery. He specializes in disorders of the shoulder, hip and knee. He is one of the few surgeons to perform total joint replacement and Birmingham Hip Resurfacing surgeries on an outpatient basis.
Dr. Alexander started his career in Cleveland, Ohio where he grew up and graduated cum laude from John Carroll University. He earned his medical degree from The Ohio State University College of Medicine with honors in orthopedic surgery.
Dr. Alexander completed a general surgical internship and his orthopedic surgery residency at The Mt. Sinai Medical Center in Cleveland. This provided him with a unique, hands-on experience at the teaching hospital of The Case Western Reserve University School of Medicine.
He then served as Chief Resident of The Division of Orthopaedic Surgery at The University of Alabama Hospitals in Birmingham. At the completion of his residency, Dr. Alexander obtained additional hand and upper extremity training at The Cleveland Orthopaedic and Spine Hospital, an affiliate of The Cleveland Clinic Foundation.
Dr. Alexander has made national presentations related to orthopedic surgery as well as authoring and co-authoring numerous articles on the subjects. He lectures locally and nationally on joint replacement surgery, surgical treatment of shoulder and wrist fractures and sports medicine. Dr. Alexander is also an orthopedic device and implant consultant for Smith & Nephew, Biomet, and Ortho Development Corporation.
Dr. Alexander is also the founder of AEC Learning Center, a cadaveric training facility for the education of physicians on the latest surgical techniques. Dr. Alexander is certified in Advanced Trauma Life Support (ATLS) and Advanced Cardiac Life Support (ACLS).
Dr. Alexander takes pride in providing one-of-a-kind patient care to the Florida Community. He offers patients the opportunity to recover in their home. Dr. Alexander is passionate about restoring the health and wellness of his patients.
Memberships
The American Board of Orthopaedic Surgery
American Academy of Orthopaedic Surgeons
Florida Orthopaedic Society
American Medical Association
Profile Directories for Vladimir Alexander